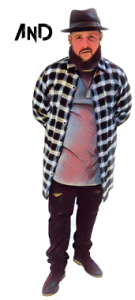 Born Andrew Dean Davis in a small town on the Eastern Shore of Maryland, A.n.D. has become a master in the art of multitasking. The 32 year old father of five recognizes the importance of a positive work/life balance, while still dedicating any and all time available to living his dream. For most, it's human nature for us to often get comfortable in certain situations in life and forget to take the time to remember what we want to be here for, where we came from and why we are even here doing this in the first place. As an artist if you are not going to shoot for the ultimate goal, then honestly…. what is the point?
This could possibly be one of the toughest struggles in life – embracing your past – using it as guidance – and not always focusing on the fact that it was a rough road. Understanding to appreciate the difference can change your life. And for A.n.D. it has.
At first glance, an outsider may question the package without paying attention to the finer details. A.n.D. likes to consider himself the Eastern Shore Bun B- between the music he's created and moves he's made – he always has kept it real. Growing up lower middle class on the Eastern Shore of Maryland , A.n.D. has seen his in and outs. Coming from a place like this you develop a strong sense of self and a type of humbling persona that places you in a strong position to be successful no matter which route you choose. To those who are unaware the DMV (DC, Maryland, and Virginia) is neither a suburb or a city. The understanding of the street life blended with the intelligence of WVU graduate is evident here – undeniable evidence at that.
Hip Hop artist turned entrepreneur and Radio personality, A.n.D. has done alot with a relatively short amount of time.  Over a seven year span A.n.D.'s portfolio as a hip hop artist, promoter and entrepreneur is robust, having 50+ shows under his belt successfully promoting several $100,000 events  as well as a corporate sponsorship with Scion and amassing 70k plus views online allowed his knowledge as a businessman to grow and transform over 7 years in the game. In 2014 A.n.D. opened Deadstock SBY in Downtown Salisbury providing a source for young creatives in the lower eastern shore to connect while providing the highest quality sneakers and hypebeast fashion in the area.  Having a longstanding relationship with station owner Ron Banks, A.n.D. had a vision with Live 97.5 to bring Sneaker culture and local music to the air waves with DJ Skeet Boogie… and The OG Show was born!
---