The Best of The Breakfast Club
DJ Envy, Angela Yee, and Charlamagne Tha God's
Scheduled on
| | | | |
| --- | --- | --- | --- |
| | | | |
| Saturday | 10:00 am | | 2:00 pm |
Tagged as:
The World's Most Dangerous Morning Show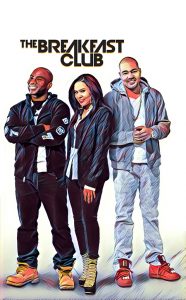 The Breakfast Club is a four hour and a half morning show featuring DJ Envy, Angela Yee, and Charlamagne Tha God's unrivaled interviews with celebrities and hip-hop artists.  From megastars like Justin Bieber, Nicki Minaj and Arnold Schwarzenegger to rap icons such as Rick Ross, Waka Flocka and Gucci Mane, every guest visiting The Breakfast Club is grilled with their signature blend of honesty and humor.  The results are the best interviews to be found on radio.
The Breakfast Club includes segments such as Angela Yee's Rumor Report, Donkey of the Day, and DJ Envy's People's Choice Mix.  Angela Yee informs the listeners about pop-culture news during Angela Yee's Rumor Report, while The Breakfast Club gives their unique views on each topic.  During Donkey of the Day, Charlamagne Tha God chooses a public figure or celebrity to poke fun at after public missteps.  DJ Envy's People's Choice Mix consists of 25 minutes straight of DJ Envy's award winning music mixes.
---
Read more
---